Earth Day at Living Places Copenhagen
Copenhagen
BoligVærkstedet
Otto Busses Vej 29A, 2450 Copenhagen
You're invited to the Living Places Copenhagen Grand Opening on Earth Day - April 22, 2023 for an exciting day of events and activities for the entire family!
We have put together a full program of sustainability-focused talks, experiences and workshops to enjoy a great day out while exploring a new approach to building homes that benefits both people and the planet. 
About Living Places
Living Places Copenhagen, the first prototype built by VELUX in partnership with EFFEKT, Artelia and Enemærke & Petersen, is a partner project for the UNESCO-UIA World Capital of Architecture. The exhibition consists of seven prototypes – five open pavilions and two finished homes in full scale, showing our take on healthy and sustainable homes.
Living Places Copenhagen shows how to build sustainably by rethinking how we build today and challenges the building industry to accelerate responsible and sustainable solutions. Living Places has Denmark's lowest CO2 footprint and a first-class indoor climate, demonstrating that we don't have to wait for future technology to build homes that benefit both people and planet.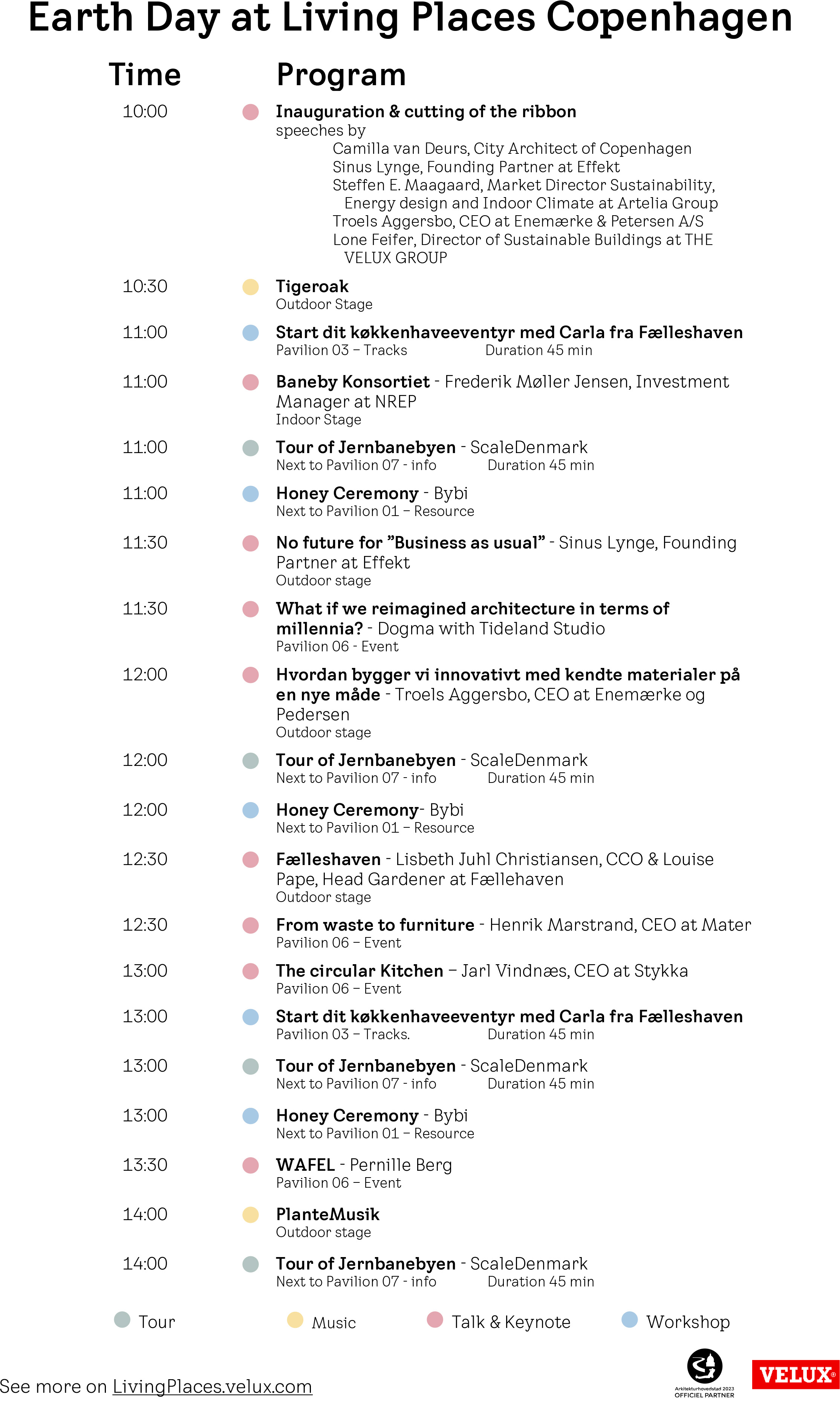 Explore the Living Places Copenhagen
Step inside the fully functional prototypes showcasing the potential for building homes healthy for people and the planet. 
To reserve a spot to access the two Living Places homes in full scale -  CLICK HERE*
*Sadly our house tours are full booked.  But remember that we have an exciting program of activities and talks throughout the day that do not require sign up - See our program below
Talks
Learn something new with inspiring talks from people leading the sustainable agenda in Copenhagen and beyond, including Lone Feifer, director of sustainable buildings at VELUX, Sinus Lynge, founding partner of EFFEKT,  architect and urban planner; Camilla van Deurs, city architect of Copenhagen Municipality; and upcycling entrepreneur and founder of Mater, Henrik Marstrand.

Please note that the talks will primarily be held in Danish

Support bio-diversity at a Bybi Honey Ceremony
A sustainable planet relies on a healthy and diverse eco-system. What a better way to celebrate Earth Day than taking part in a Honey Ceremony hosted by Bybi, who cultivate a system where bees, flowers and people thrive. 
Do your part to create a better environment for pollinating insects while getting creative!
Get a bag of flower seeds to plant in a place of your choice to contribute to supporting an essential part of the eco-system for bees.
Take part in a collective work of art, pledging your commitment to plant more flowers for all pollinating insects and become a co-creator of a city where bees, flowers and people thrive.
Taste honey from different parts of the city, personalize your very own honey jar label and take it home with you.
The event will last 30-40 mins.
Listen to a live concert by plants and more
Ever wondered what a plant sounds like? Equipped with computers, synths and homemade music machines, you can experience a unique concert  where artists play the sounds of nature! 
The artists featured have, among other things, a played concerts in Maos Have, Kulturnatten Islands Brygge Kulturhus (2021 and 2022), Krabbesholm Højskole (2022) and at the National Museum (2022)
We will also hear from new Danish neo-soul duo Tigeroak who combine neo-soul features with electronic hip-hop grooves, melodic choruses and figurative lyrics to create a space for everybody to enjoy music with an experimental focus. 
Tigeroak was selected for Jazz Danmark's National Jazz Competition in 2022 and performed twice in the national television show on DR: "Sammen - hver for sig."
Tours
You can also explore the local area by joining free guided tours of the architecture and cultural heritage around the railway district 'Jernebanebyen'.
About Earth day
Earth Day is an annual event on April 22 that celebrates our planet while raising awareness about sustainable initiatives and environmental issues. First held on April 22, 1970, it now includes a wide range of events coordinated globally with 1 billion people in more than 193 countries.
Add to calendar
Copenhagen
BoligVærkstedet
Otto Busses Vej 29A, 2450 Copenhagen
22 Apr 2023
10:00-15:00
CET